Weekend Sale!

Get 50% Off The Rocket Piano Ultimate

Download

Package
Get an incredible 50% OFF Instant Online Access to Rocket Piano Ultimate Download Package Right Now... That's $109.90 worth of fantastic Rocket Piano DOWNLOAD lessons for just $49.95!
No matter where your piano learning journey is taking you, you can
get there faster with Rocket Piano!
Hey Jon here from Rocket Piano,
Have you always dreamed of hearing your favorite song on the radio and then being able to play along with your piano instantly?
Imagine sitting down to the piano at a party with friends and have them gather round as you play their favorite tunes...
What if you could join a band or play onstage in front of a live audience...wouldn't that be AMAZING!
No matter what skill level you're at, if you've ever dreamed of being a great pianist, this information applies to you.
Our students love Rocket Piano
"I have already learned how to play my first Jazz song and I've only had Rocket Piano for a week! Thanks."
- Jeff Tallot
"This course would be the best purchase made in my lifetime and you may quote me in future advertising. I'm spreading the word to all my friends."
- Cathy Howes
"Thanks so much for developing the Rocket Piano course. I am 53 and finally learning to play the piano. I am in the Beginners course and already can see that it is making a difference in my playing. You have a good system for teaching."
- Nick Scott
"I thought I would let you know that I purchased the full package. Nevertheless, I am going through the free lessons as well. More importantly, I am legally blind and so far have been able to follow the lessons reasonably well. The only problem I have had of any consequence is one of the games, something to do with keyboarding, I think. It is designed in soft pastel colors and therefore, unusable by me. The rest of the games offer good contrast and have proven quite beneficial. All-in-all I am quite pleased thus far. My low vision is creating obstacles, especially in reading notes on the staff. Hopefully my vision will allow me to finish the lessons. I waited rather late in life to learn a musical instrument, but this is important to me. Thanks for a very good product."
- Jerry Wilson
And on Facebook...
Learning to Play the Piano the Right Way
We wrote Rocket Piano because we were fed up with the quality of learn piano products on the market. Studies show that 97% of all pianists discover that learning how to play piano isn't as easy as they thought it would be. If you use the same old boring exercises and drills that other people use, you're even worse off!
In Rocket Piano you get three e-books of step-by-step lessons, video demonstrations and high quality sound files. These lessons take you on a journey from beginner to an advanced skill level by fast-tracking your development, while covering every aspect involved in learning to play piano. The lessons are all laid out in an easy to follow, step-by-step method. They are very easy to understand no matter what age you are and we've gone to great lengths to ensure that they are fun!
With Rocket Piano you learn how to play the piano from Beginner through Intermediate to Advanced. It's easy! That's because we have put the course together to give you all the theory and practical knowledge you need to get started on the right track to becoming the pianist you've always wanted to be. You'll learn faster because we have made the process fun!
With Rocket Piano you also learn several classic songs as well as original songs that are exclusive to Rocket Piano. You will learn all the skills you need to be able to play any song you want! This is something you don't get with other piano courses. They just teach you songs in a book and that's about it. Rocket Piano gives you the skills to be able to learn to play the songs YOU want. That is a valuable skill that will be with you for life!
The course doesn't just teach you the practical playing, it also gives you a sound grounding in music theory and gives you a background in piano, its history and how it works. This is really great information that a lot of piano players never bother to learn and subsequently they never achieve an advanced level of ability. It's this essential knowledge that will take your playing to a new level. And don't worry about music theory being BORING! We KNOW most people get frustrated with theory courses. They're way too technical! We see this with a lot of students who come to us and know it is simply not good enough! Rocket Piano specifically tackles these issues and gives you theory in a way that's fun and easy to remember. With our method of learning the intricacies of music theory and how it works, you'll be hooked! It's actually quite addictive!
Become a Complete Pianist
Rocket Piano teaches you not only what to practice but HOW to practice. We show you how to get more out of 10 minutes of playing than some people will get from spending hours a day at it. You practice SMARTER, not HARDER, so learning to play is fast and enjoyable.
You'll also learn important things like how to play the piano to communicate a feeling or emotion. Composers create a piece of music to express something, and by learning music language you will be able to understand the feeling the composer intended and be able to communicate it exactly! When people hear you play they'll say "that song you played really touched my heart" or "I can understand what that song is about". It's more than the notes themselves that communicate that feeling. It's the way you play and express the music. This course teaches you how to get the most out of your playing.
Rocket Piano teaches pianists at different levels and abilities and that makes it special. It caters for the absolute beginner by teaching the theory of a technique, and then applying the technique directly to an original piece of music. This way you get hands on experience with each technique as you learn. And don't worry about not knowing how a piece of music should sound or how you should be playing it. Each piece has an audio example to show you what it sounds like.
Rocket Piano also teaches you how to improvise. You learn about melody, harmony, chords, arpeggios, scales, and how to play chord progressions in any key. You'll be able to play a solo to really impress your friends and fellow musicians.
You will learn how to read music from nothing but chord symbols! You will be able to look at a page of chords and be able to play the song convincingly. Many musicians are intimidated when they have to play something they haven't practiced! The trick is learning the theory and techniques to improvise, so that when the time comes, you'll find it easy. Rocket Piano shows you how! You will be the centre of attention and other musicians will be wanting YOU to play with them!
What's included in the download package?
All of our Rocket Piano lessons are Mac and Windows friendly, and come as easy to download files containing e-books in PDF format, video lessons and audio examples. This means you can print the lessons out, put them on your Kindle or iPad, or use them right there on your computer.
All of the software games come as easy to download install files that take the difficulty out of installation.
File sizes are all very manageable, so if you're worried about download times, you don't need to be. After ordering you can be up and learning in a matter of minutes!
When you order Rocket Piano, you get a lifetime membership to the site which means you get all future updates to the course, absolutely FREE! And, if you accidentally lose the lesson files, you can just log in using your membership details and download them again.
Absolute Beginners e-Book
The Beginner Course starts from square one. You learn all about the history of the piano, how it is made up and how the keys work together. No prior knowledge needed. You'll learn where to put your hands, how to use your fingers to play scales, chords and arpeggios.
You will learn the basics of melody, harmony and rhythm the three fundamental parts of music. Plus, you'll learn how to play heaps of modern and classical songs that will have you sounding great.
Whether you have no previous experience learning the piano, or are picking it up again and want to brush up on your skills and knowledge, the Beginner Course is the perfect place to start.
Intermediate e-Book
The Intermediate Course takes you to the next level in your playing and knowledge of music. If you have completed the Beginner e-book, or if you already consider yourself an Intermediate pianist (you know the basics) then this e-book is going to take you one step further in each of the three aspects of music.
You'll learn about key signatures and time signatures so you can read music. You'll learn dynamics and performance. This is the "icing on top" of the music you play. You'll also learn more complex rhythms and get to know more complex chords so you can convincingly play music in a jazz or gospel style.
The Intermediate e-book works on all areas of your practical knowledge and takes you to the stage where you can handle the advanced series of lessons.
Advanced e-Book
The Advanced Course is the next step in your Rocket Piano journey. This e-book really starts to open up your playing with advanced techniques and skills you will use to build your future as a musician. These skills will equip you for: songwriting, sight reading, improvising, transposing (changing the key of a song either for singing, or arrange for another instrument!) and understanding the relationship that links all chords and key signatures!
Learn to perform the trickiest of piano skills. That's over fifteen years worth of expensive and hard won information in a simple and easy to follow format. It's comprehensive knowledge at your finger tips!
Gospel Piano e-Book
Beginning with the history of how Spiritual music began you'll learn the fundamental theory of Gospel music including the Pentatonic and Blues Scales and gives you the confidence to play for your Church.
Just imagine being able to pick up the current songs in your church, sitting down and learning them, then asking if you can join them for their next rehearsal practice!
Jazz Piano e-Book
The Jazz Course is a comprehensive grounding in Jazz including its history, distinctive rhythms, underlying qualities, rhythmic movements, common Jazz chords (and how to play them in different Jazz arrangements), how to break Jazz songs down and play them, and much much more!
For those of you who are particularly interested in Jazz piano, this course is the best place to start!
Fingering Exercises and Techniques e-Book
Discover how to master impressive skills without even breaking a sweat!
The key to playing really smooth, accurate and fast piano pieces is to have excellent fingering techniques. In this e-book you select a drill to practice for the week that will improve your playing dramatically. There are plenty of exercises to choose from - easy to hard.
Classical Song Kit
The Rocket Piano Classical Song Kit gives you the sheet music, song notes and mp3s to learn to play 20 of the most inspiring pieces of classical music ever written!
Not only will you be able to play some of the most well know Classical songs of all time, you will also gain new skills you can use in your own playing.
Best of all, you'll have all your friends and family in awe at your amazing talent for reciting the Classics.
Learn to play the following amazing songs:
Ode to Joy - Beethoven
Minuet - Bach
Mexican Hat Dance - Rubio
Hungarian Dance - Brahms
In The Hall of The Mountain King - Grieg
Canon in D - Pachelbel
Rondo Alla Turca - Mozart
The Entertainer - Joplin
Dance of The Sugar Plum Fairy - Tchaikovsky
March of The Nutcracker - Tchaikovsky
Moonlight Sonata - Beethoven
Bolero - Ravel
Maple Leaf Rag - Joplin
Funeral March - Chopin
Sonatina - Clementi
Wedding March - Mendelssohn
Spring - Vivaldi
Fur Elise - Beethoven
Eine Kleine Nachtmusik - Mozart
1812 Overture - Tchaikovsky
Learn by Ear Course
This amazing new course teaches you step-by-step how to play any piece of music just by listening to it.
These lessons cover the most important aspects of ear training including:
Pitch Practice
Image Association
Writing it Down
Recognizing 7ths
Basslines
Inversions
You'll quickly start recognizing chords and progressions in music so you can start playing them instantly.
Just think of all the possibilities to impress people with your talent for hearing and then playing songs.
Theory Focus Course
It's time to sharpen your pencil and start writing sweet music. If you have always found musical theory difficult then this focused course is perfect for you.
The RocketPiano course will improve your learning by ear, your songwriting, your ability to jam and improvise, and just give you a greater appreciation and insight into music and its amazing complexity!
You'll learn about things like:
Scale tone tendencies - the 'tonic', 'dominant', and 'mediant'...
Root motion like 'retrogression', 'stepwise', and 'root motion in thirds'
Chord Construction
Diatonic Triads
Reharmonization
Tonic Functioning Chords
Subdominant Functioning Chords
Chord Substitutions
Cadences
And much, much more...
10 Personal Video Lessons with Ruth Searle
Guest tutor Ruth Searle takes you on an amazing 10 part "Essential Skills" video series that will have you sounding like a pro in no time at all!
Ruth delivers an outstanding performance and the resulting lessons are easy to follow and entertaining to watch.
You'll learn:
Rhythm Training
Key Signature Identification
Major Chord Construction
Minor Chord Construction
Chord Expression
Accents and Staccatos
Using Dominant 7th Chords
Voice Leading
Triplets
Transposition
Jam Tracks and Quizzes
26 Rocket Piano Jam Tracks - With Piano Performances and without.
We know you will enjoy playing along with a band. There are a wide range of backing track styles through each e-book. Best of all it's really fun to practice with a solid rhythm section.
NEW Rocket Piano Quizzes - Quizzes are placed throughout the course to see how far you've come in your learning. Check your answers to see how high a score you can get!
Plus! Order Now and Get this Special Bonus...
Instant Access to the Rocket Piano Song Library!
Learn the Greatest Songs with Full Access to the Rocket Piano Song Lesson Library!
Each video song lesson is broken down for you by our professional piano instructors making songs easier and more fun to learn.
All the hard work is done for you so you can just learn to play your favorite songs from the artists who changed the World.
Here's just a few of the songs you'll learn to play:
Norah Jones
Come Away with Me
15 minutes
John Lennon
Imagine
17 minutes
Ben E. King
Stand by Me
37 minutes
Don McLean
American Pie
80 minutes
Sarah McLachlan
Angel
21 minutes
One Republic
Apologize
18 minutes
Nat King Cole
Autumn Leaves
15 minutes
Rufus Wainwright
Hallelujah
24 minutes
Mariah Carey
Hero
35 minutes
Carole King
It's too Late
24 minutes
The Beatles
Lady Madonna
19 minutes
The Beatles
Let it Be
6 minutes
Sarah Bareilles
Love Song
23 minutes
Van Morrison
Moon Dance
20 minutes
Evanescence
My Immortal
44 minutes
Ottis Redding
Sitting on the Dock of the Bay
8 minutes
Billy Joel
Piano Man
7 minutes
Keane
Somewhere Only We Know
6 minutes
Here's the best news of all Rocket Piano comes with Six FREE Software Bonuses...

Limited Time Offer
Special Bonus #1
The RocketPiano Metronome
The Rocket Piano Metronome is designed using traditional metronome sound and style and allows the user to set a click tempo between 40BPM (Beats Per Minute) and 208 BPM. Not only is tempo displayed in BPM, we have also added the traditional Latin terms that you often see in musical notation, used to suggest playing speed.
Combined with specific Rocket Piano Exercises and lessons this is a potent tool that enables you to gain the timing, speed and control of a professional.
"Rocket Piano has fantastic bonus software, I use the metronome alot when practicing my sight reading drills."
- Tracy Williamson (UK)
Special Bonus #2
Jayde Musica Pro - Musical Note Game
Jayde Musica brings enjoyment to the otherwise monotonous task of learning how to read music.
Calling this piece of software a game is actually pretty deceptive - you don't have to use it long to see why. In the space of a few hours you can have vivid photographic memory of the entire music stave and feel like you've hardly had to work at all. Beginner to advanced levels, complete with high scores - Jayde Musica really is something else!
"I just wanted to let you know that I'm really enjoying Jayde Musica. After searching for ages, I have finally found some music training software that is actually fun to use. Thanks a bunch!"
- Janine Soulli
Special Bonus #3
Special Bonus! Keycelerator - Chord Learning Game!
KeyCelerator takes over where Jayde Musica leaves off so that you can take your music reading to a new level, while having incredible amounts of fun in the process!
Soon you'll be sight reading even the most complex chord shapes with the same ease that you read a book. Keycelerator helps you to learn the various piano chord key arrangements.
You'll be very impressed with yourself after just a few short games with Keycelerator
FREE! When you order during this Promotion!
Special Bonus #4
Advanced Learning Techniques for Piano
Using advanced learning techniques, you can cut your learning time in half. Here is a sample passage from this fantastic e-book:
"The interesting thing about mental visualization is that it uses most of the same pathways in your brain as when you perform the activity physically. The only thing missing is the follow through, where you lob the ball at the hoop or hear the noise ring out of the piano."
The best thing about mental visualization is that you can do it without your piano. On the bus, in the car, or before you go to sleep at night, mental visualization is also a fantastic excuse to do at every opportunity!
You will not find anything like this e-book anywhere else. It contains some of the most valuable information that you will ever learn about learning the piano. On its own this e-book is normally worth $30 - you will receive it free!
Special Bonus #5
Chordinator - Chord Learning Game
Chordinator - Teaches you how to read piano chords off the musical staff, while having a lot of fun in the process!
Chordinator is the perfect addition to Jayde Musica, with this software you'll soon be able to read piano music like you read the newspaper.
You'll be very impressed with yourself after just a few short games with Chordinator!
Special Bonus #6
Perfect Your Pitch Pro
You've probably heard from musicians and piano teachers, just how important it is to train your ear in order to both transcribe songs and play piano better. It's hard to believe, but within 2 weeks you could be transcribing songs from the radio with precision and accuracy, just by playing "Perfect Your Pitch Pro".
"Perfect Your Pitch Pro" is a very simple, but very powerful, multiple-choice listening game. It ranges from easy to hard. Your friends will be saying that "you have a great ear for music". And you'll not only find it far easier to transcribe songs from the radio, you'll have a better ear for music and that will in turn pay you big big dividends on your piano playing progress. What an opportunity!
"My song writing and overall piano playing have benefitted greatly from your Rocket Piano course. I have especially gained a lot from 'perfect your pitch pro'. Now I can figure out songs and improvise much much better!"
- Michelle Clark
Try Rocket Piano RISK FREE for 60 days!
We insist that you order Rocket Piano entirely at OUR risk. This learning kit comes with a 60 Day 100%, Money-Back Guarantee. There's absolutely NO RISK on your part. Here is our NO HARD FEELINGS, no hassle, 100% money-back guarantee: Try my Rocket Piano download course for up to 60 days. If it doesn't live up to your expectations and everything we say and help you to dramatically improve your piano playing, then just email us and we'll promptly issue you a full refund.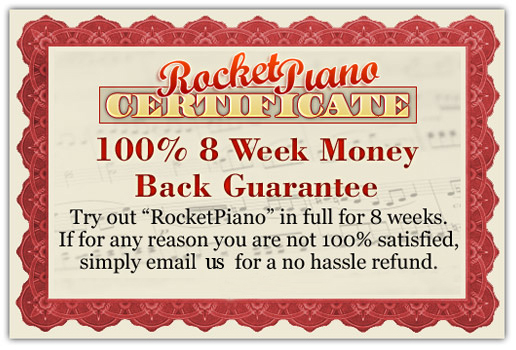 Now let us take this guarantee one step further. Don't feel like you must "use" these techniques in order to get a refund. If you don't like Rocket Piano for ANY reason, simply send us an email for a 100% refund of your purchase price. And remember, you're free to return it next week, next month, or up to 60 days from now.
Finally, because you're entrusting us with your time and confidence, we want you to keep the Six Free Software Bonuses free of charge, even if you request a refund of Rocket Piano. That's a guaranteed gain no matter what you decide!
Look into the future
Now picture this: It's a year from today (or a lot sooner), and you've become the impressive pianist you'd always dreamed of being - with a lot less effort than you expected. Even better, you know for a fact that you have the skills, resources, and you know exactly what to do with them to become an even better musician.
Now, stop and look back on today. Considering that you've now become a fantastic piano player, what price tag would've made it a good investment?
These Secrets Are Yours In Just Five Minutes
You would pay a LOT more if you tried to collect all this information and software yourself. But if you order now during our weekend sale, you get the Rocket Piano Ultimate Package for an incredibly low $109.90 $49.95 AND there are:
Zero shipping costs
No waiting time, forget having to wait weeks for delivery
No risk of products lost or damaged in the mail
You receive Rocket Piano - The Ultimate Piano Learning Kit at a lower price because as a downloadable product it costs us less to produce
You will have access the Rocket Piano Members Area immediately, so you can start learning amazing piano skills within five minutes! Even if you have never downloaded something from the internet before it comes with instructions so it's easy!
How To Place Your Risk-Free Order
The fastest way to order is online with ClickBank's SECURE SERVER. Clickbank is one of the internet's leading third party credit card processors. Keep in mind that when you use ClickBank's order form, we do not have any access to your credit card information at any stage, ClickBank is one of the most widely used and secure credit card processing companies and you can be certain that your details are completely secure.
Lifetime Membership, Support and Updates
That's right, when you order Rocket Piano you get lifetime Membership to the Rocket Piano site. This entitles you to lifetime email support with our professional support team, and lifetime access to future updates of the Rocket Piano download course - All for the one payment of $64.95!
All orders processed via Clickbank, one of the largest and most trusted online payment providers.
What is Clickbank?
We value your privacy so we use ClickBank as Rocket Piano's only authorized retailer. Your information is 100% secure as Clickbank is one of the largest and most trusted retailers of digital goods on the internet, processing thousands of orders for thousands of publishers like Rocket Piano every day.
I personally guarantee that Rocket Piano is simply the best piano course that you can buy on the internet. If it doesn't measure up in any way please let me know any time within 60 days and I will give you a prompt and full refund.
If you have any questions about Rocket Piano or the order process then please email us.
Yours sincerely,

Jon Coursey and the Rocket Piano Team
Frequently Asked Questions
What type of payments do you accept?
We use Clickbank, one of the world's most trusted 3rd party credit card processors. Currently we can accept all major credit cards and PayPal.
What happens once I've paid?
After purchase you'll be guided to our super friendly Members Area. As a VIP Rocket Piano Member, you'll have access to download all the course lessons, videos, jamtracks and learning games. Plus, you also get to meet hundreds of other learner pianists just like you in our online community.
How safe are my payment details?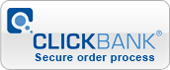 We choose Clickbank because they are the most trusted provider of secure and reliable online payment processing. You can order with peace of mind knowing your payment details are completely safe.
Got terms of service and privacy policies?
Here are our Terms of Service and Privacy Policy.